When member banks and trust companies search for trusted vendors, our associate members are a direct resource for their needs. Increase your company's exposure within New Hampshire's banking community and the ability to develop relationships with member banks by becoming an associate member today.
Attend events with senior level bankers, share your expertise as a speaker at a conference or peer group, and market your products and services to a targeted audience. See below for more information and benefits through an associate membership.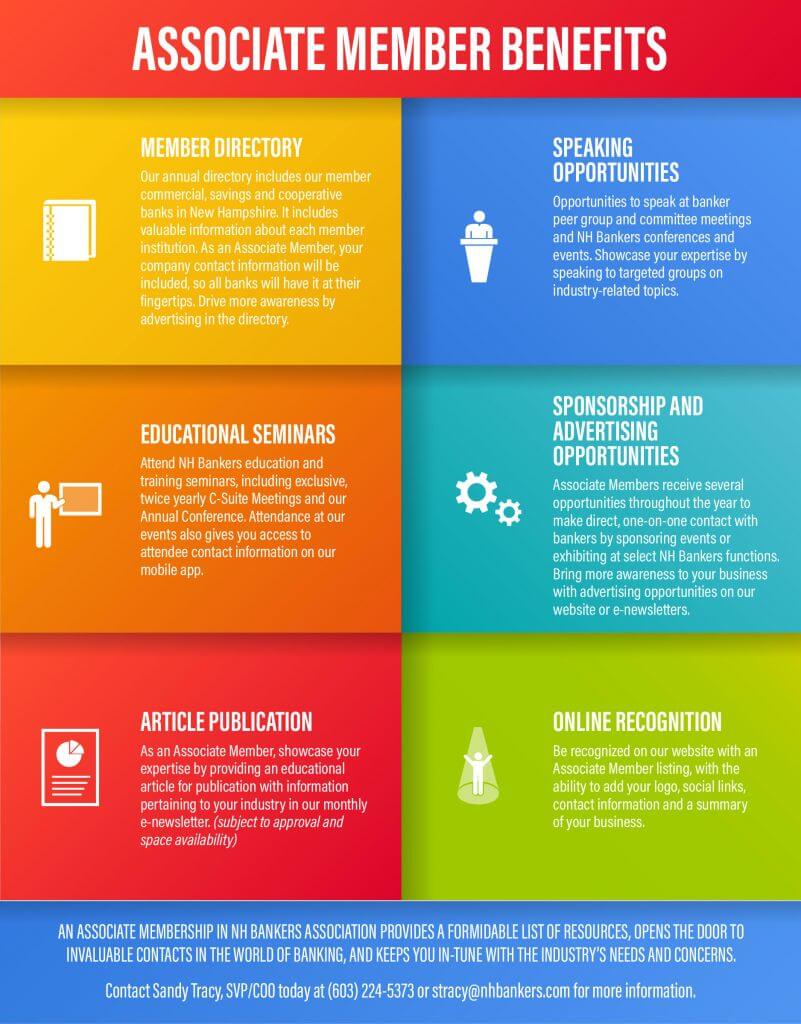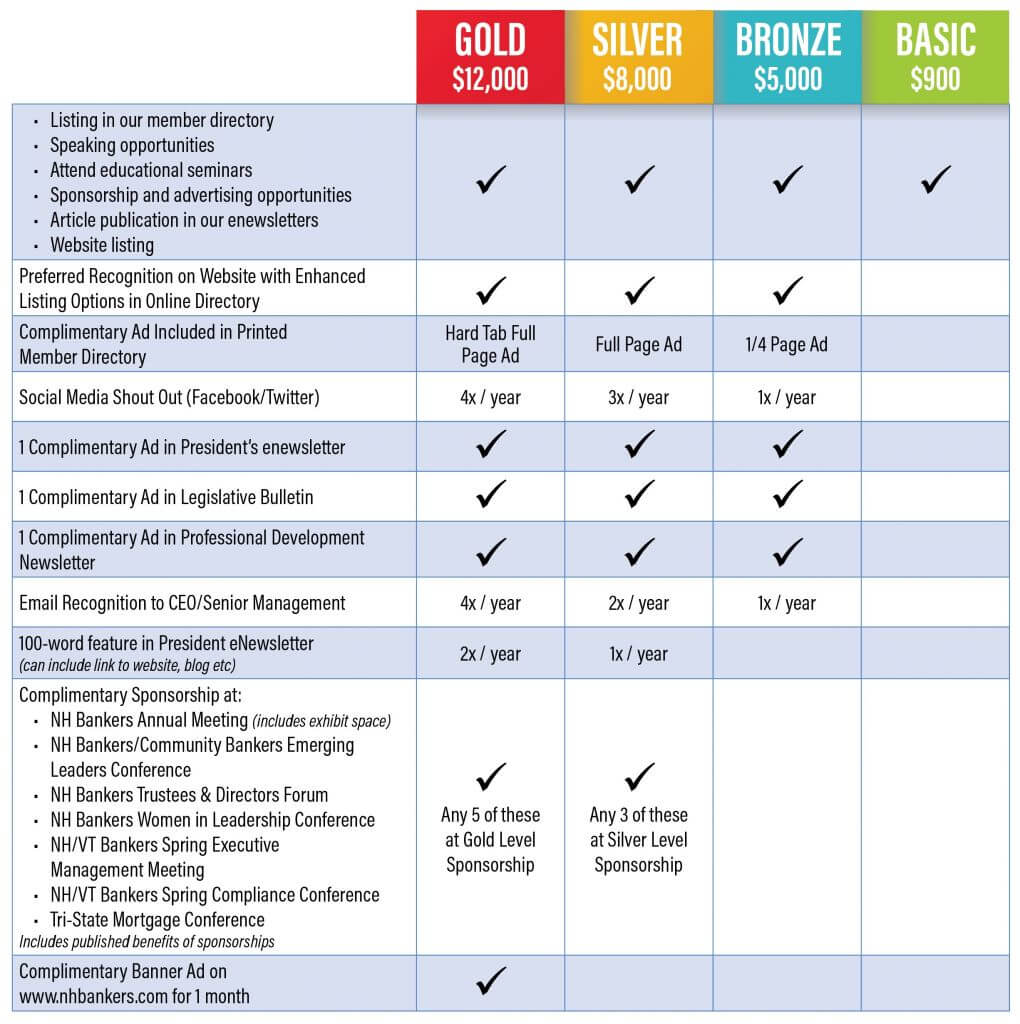 QUALIFICATIONS
Any person or entity engaged in the business of providing services to Qualified Banks or Trust Company Members, or financial services in the State of New Hampshire may become an Associate Member. Each application for Associate Membership is subject to approval by the NH Bankers Board of Directors and is governed by the By-Laws and any rules and policies of the Association, as determined from time to time. Both you and the NH Bankers Association members will benefit from your Associate Membership.. For more information, contact Sandy Tracy or call 603-224-5373.
As a trust company member of NH Bankers you can:
Benefit from timely legislative updates about the Trust Industry.
Participate in NH Bankers diverse list of Peer Groups, including one just for Trust and Wealth Management Professionals
Stay informed by attending conferences, programs and meetings with well-regarded speakers and timely subject matter relevant to banks and trust companies.
Deepen your network and form long-lasting relationships.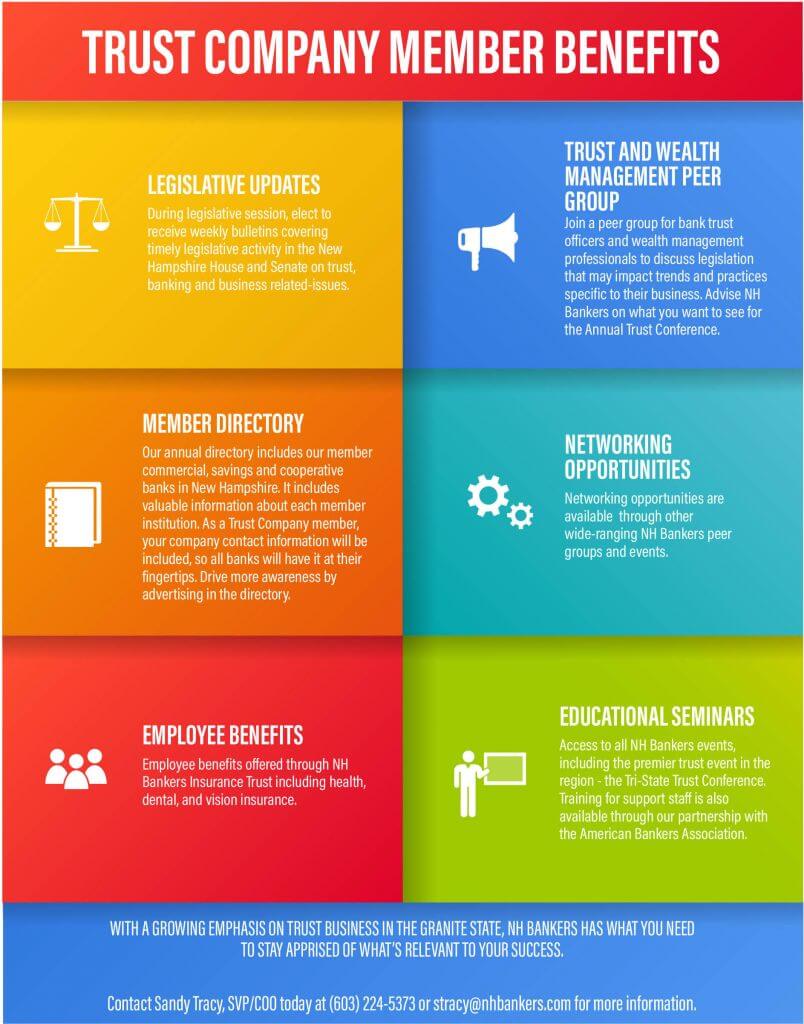 For more information, contact Sandy Tracy or call 603-224-5373.
We exist to support our member banks by fostering a banking environment that strengthens our Granite State communities. We support our banks through advocacy, professional development, networking and offering a range of products and services to support your employees, customers, and communities.
Represent You in Legislative Matters
We provide a unified voice for the state's banking industry at the Statehouse in Concord and on Capitol Hill on all legislative matters.
With member input, we develop, shepherd and help enact pro-banking laws and work to prevent harmful laws and regulations.
Develop and deepen relationships with legislators and our Congressional delegation to convey the importance and extensive role and impact of New Hampshire's banking industry.
Provide pertinent legislative developments through the weekly Legislative Bulletin during session.
Receive other state and federal government, regulatory, compliance, training and bank products updates.
Communicate for You
We provide members of the media, and the public with up-to-date information relating to the state's banking industry.
Actively engage in public relations efforts to emphasize the value of banks, their economic impact, service and support to our Granite State communities, families and small businesses.
We provide information on the many regulatory and legislative changes the industry is currently facing.
Develop You
We provide our members educational programs and opportunities with the most up-to-date, innovative, and easily-accessible information that helps do your job better and grow in your career.
NH Bankers continually offers in-person and virtual half-day, full-day, and week-long programs on a wide-range of areas within banking, or based upon the stage you are in your career.
Member rates and discounts on professional education designed specifically to meet the needs of New Hampshire bankers.
Connect You
We provide the opportunity to network with hundreds of other New Hampshire bankers at events, boards, peer groups and taskforces.
Learn from your peers through these connections, develop long-lasting friendships, and find your community.
Professional Partners and Vendors for You
Our mission is to find companies that offer what NH Bankers members need; and provide the research and due diligence necessary to ensure that only the very best receive an endorsement.
We offer high quality products, services and solutions to help our member banks support their employees, customers and communities.
Vendors are referred by fellow bankers and state banking associations, and are reviewed and approved by our board of directors.
Generate revenue and save costs through collective buying programs provides advantageous pricing on bank products and services.
Insure You
NH Bankers helps to protect your bank, your bank's employees and their families, with a variety of insurance coverages.
Our wholly-owned affiliate, New Hampshire Bankers Services, LLC is licensed to sell or broker insurance products for all types, including medical, dental and life.
---
QUALIFICATIONS
Any bank chartered by New Hampshire or any other state, or any federally-chartered savings association or national bank, which is authorized to accept deposits and has a principal place of business, or a branch or branches within the State of New Hampshire may become a Member.
If a Bank is a member of a multi-bank holding company having more than one bank, all Banks within the holding company are considered to be part of a single banking organization with the holding company holding the membership. Such bank holding company must be a Member in order for its affiliates to have Organizational Standing.
For more information, contact Sandy Tracy or call 603-224-5373.