New Hampshire Bankers Association BankPAC is a statewide, bi-partisan, non-profit political action committee organized by members of the New Hampshire Bankers Association. Through contributions, BankPAC supports the campaigns of state and federal campaigns of those candidates whose views coincide with those favorable to New Hampshire's banking industry and a free and competitive marketplace.
BankPAC takes very seriously to whom it makes contributions, seeking out those candidates who promote that which is in the best interest of banks and in the best interest of a strong and viable economy.
To that end, BankPAC is reliant on member banks to contribute to the PAC, providing many opportunities throughout the year for members to make contributions.
For more information about the NHBA BankPAC, or to make a contribution, please email Ryan Hale, Vice President of Government Relations or call (603) 224-5373.
This PAC contributes to candidates seeking federal office. The sole purpose of NH Banker's Federal BankPAC is to support the campaigns of candidates who work for the concerns of the banking industry.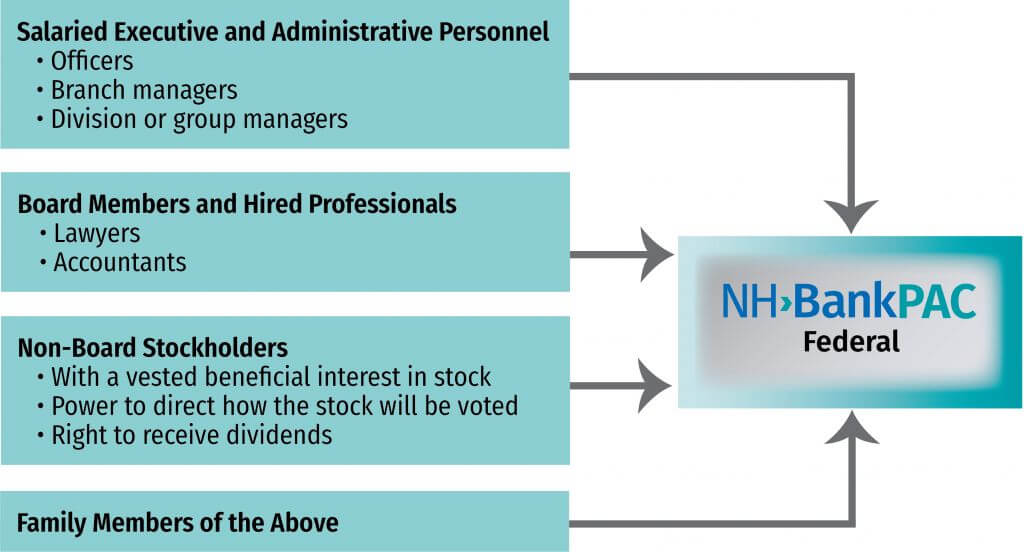 WHO MAY BE SOLICITED FOR THE FEDERAL BANKPAC
Please note – Signed authorization form from CEO is required prior to any solicitation.
HOW ARE PAYMENTS ACCEPTED
Personal Check
Cash
Online with Credit Card
Payroll Deduction (if offered by bank)
Why Contribute?
A contribution to BankPAC is a wise investment in the future. Lawmakers continue to introduce bills that could negatively impact a bank's ability to serve its customers. BankPAC helps your voice be heard on Capitol Hill. A strong political action committee is essential for an effective government relations effort. Getting involved in BankPAC ensures the strength and vitality of the industry that supports your livelihood. Every banker can do his or her part to protect the industry by contributing to BankPAC.
BankPAC contributions are not tax deductible as charitable contributions for income tax purposes. All contributions are voluntary and will be used for political purposes, you may refuse to contribute without reprisal.
Contribution guidelines are only suggestions, you may contribute more or less than the suggested amounts and you will not be favored or disadvantaged based on the amount of your contribution or your decision not to contribute.
In order to comply with Federal and State laws, we must use our best efforts to collect and report the name, mailing address, occupation, and employer of individuals whose contributions exceed $200 in a calendar year.
Suggested Levels are below
| Gold Level | Silver Level | Bronze Level |
| --- | --- | --- |
| $500+ | $150-$500 | $50-$150 |
Note: FedPAC donations are accepted as individual donations only. Choose "Myself" for "Bill To" under "Payment Details."  Please provide your home address associated with your credit card in the address fields below.  Provide the financial institution name you are associated with and title therewith. When making your donation, please consider adding 3.5% to cover the processing fee, which will ensure more of your donation goes towards our advocacy efforts. Thank you.